Tips on Menstrual Health & Hygiene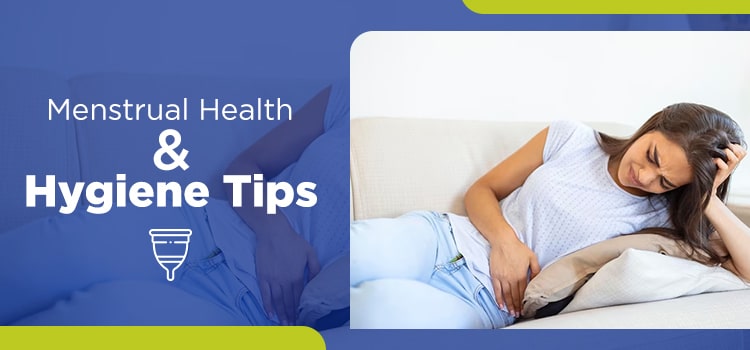 Menstruation is a normal biological process and a key sign of reproductive health. Yet, in many cultures, it is treated as something negative, shameful, or dirty.
The continued silence around menstruation, combined with limited access to information at home and in schools, results in millions of women and girls having very little knowledge about what is happening to their bodies when they menstruate and how to deal with it.
Why do gynecologists in Kamothe advise that menstrual hygiene be taken seriously?
If you're not taking proper care of your menstrual hygiene, you should. It's not often talked about, but not having access to menstrual hygiene care can make daily life very hard. While not everyone has the same menstrual experience, it is important for everyone to understand how to handle their period healthily.
Four Main Elements Make Up Menstrual Hygiene Management:
Sufficient supply of Menstrual Products.
Water and soap are easily available.
Safe disposal options for period hygiene products.
Access to Menstrual Health Education.
Useful Tips On Care & Hygiene During Menstrual Periods
Every adolescent girl and woman should have good menstrual health awareness to have problem-free periods. Here are some easy-to-follow tips by gynecologist In Kamothe for managing menstrual hygiene that can make a big difference in how you feel about your period and how you feel about yourself overall:
1. Sanitation Products
A major obstacle to good menstrual hygiene is a lack of available sanitary products. However, more and more options for women and girls are becoming available on the market now. Females of all ages can benefit from sanitary napkins, tampons, and menstrual cups.
The absorbency rate of these products varies widely. Menstrual cups last longer than sanitary napkins and tampons, which need to be changed often during your period.
2. Changing Regularly
Females should know that once blood leaves the vagina, it is more likely to be contaminated by the body's natural organisms and air. Vaginal bacteria are harmless if left alone, but with continuous contact with blood and sweating, these can cause UTIs, skin issues, and more.
Even if you're not heavily bleeding, change pads and tampons every 6 hours. Menstrual cups differ depending on the woman's flow. Change within 10 hours, though.
3. Wash Properly
Women must wash properly to maintain menstrual hygiene. Instead of cleaning from the vagina to the anus, do the reverse. The opposite motion might cause anus germs to deposit in the vaginal entrance.
Compared to vaginal products, lukewarm water can clean your genitals in a better way. Before placing a new pad, wipe the vagina and labia to remove any blood that may generate a foul smell.
4. Take Regular Baths
The expert gynecologist at Matoshree Multispeciality Hospital in Kamothe shares that skipping baths during menstruation is a bad idea. The belief that women shouldn't take regular baths during menstruation has its roots in a time when such activities were confined to outdoor locations such as ponds, lakes, and rivers.
Not taking regular baths during your period can make you feel bloated and itchy and cause you to break out in a rash. Aside from the obvious benefit of keeping your lady parts clean, a lukewarm bath can also help stabilize your mood, and ease muscle cramps and back pain.
5. Proper Disposal
To prevent the spread of infections, wrap used sanitary napkins and tampons. This will minimize the odor. It's possible you'll touch the used napkin before dumping it; so, disinfect your hands. Do not flush the used pads or tampons, as they can clog the toilet.
Women who use menstruation cups don't have to throw them away after each usage. Blood can be rinsed with water, and the cup can be reused. After your cycle, sterilize it with lukewarm water. Dry it and store the cup away from the sunshine.
6. Storing Sanitary Supplies Properly
Menstrual hygiene and a correct storage arrangement go hand in hand. You should have a clean portable pouch or paper bag, a soft towel, some paper tissues or towels, and hand sanitizer to change through every six hours.
When women go outside, they need to be extra cautious about their cleanliness in order to prevent a urinary tract infection.
To Conclude
It's important for women of all ages to follow these useful tips during their periods. Menstruation is seen as the least important problem that low-income women have to deal with.
Every woman needs to be taught the value of proper menstrual hygiene and the rewards that come with properly caring for yourself. Menstrual health awareness is something that should be emphasized in schools as well.
Positive and useful information about menstrual health should be shared with adolescents, both young boys and girls. You may contact the expert doctors at our gynecology center in Kamothe to get further consultation regarding any gynecological issues.