Meningococcal Meningitis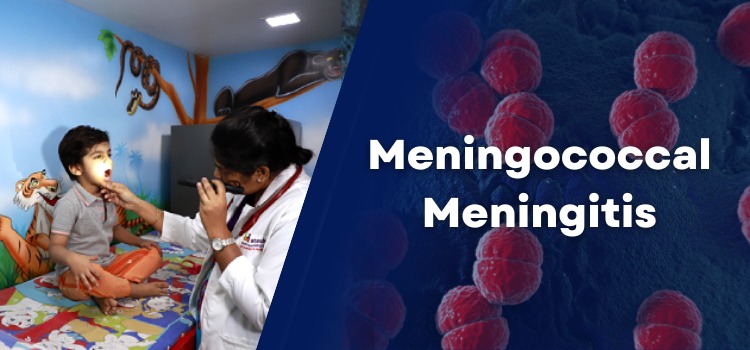 What is Meningitis?
Meningitis is a disease caused by the inflammation of the meninges - the protective membranes of the brain and spinal cord. The inflammation is usually caused by an infection of the fluid surrounding the brain and spinal cord.
It is developed due to a number of causes, usually bacteria and viruses. The severity of illness and treatment for meningitis depends upon the cause.
Types Of Bacterial Meningitis
1. Haemophilus Meningitis caused by Haemophilus Influenzae
2. Pneumococcal Meningitis caused by Streptococcus Pneumoniae
3. Meningococcal Meningitis caused by Neisseria Meningitidis
Meningococcal Meningitis
Meningococcal meningitis is a form of meningitis caused by a bacteria known as Neisseria Meningitis. It involves two major illnesses – meningitis and septicaemia ie.blood poisoning. Meningococcal meningitis is the most common form of meningitis in children and teens.
Meningococcal Meningitis can potentially kill a healthy child/adult within 24 hours after the first symptoms appear. It can be fatal or can cause great harm; as many as one out of five people who contract the infection have serious complications. About 15% of those who survive are left with disabilities like deafness, brain damage and other neurological problems.
Symptoms
The average incubation period is four days, but can range between two and 10 days. Meningococcal Meningitis is difficult to recognise in its early stages since the symptoms are similar to those of common viral illness. Also, the symptoms of Meningococcal Meningitis may vary from person to person.
The most common symptoms include:
General poor feeling and sudden high fever
Severe and persistent headache
Stiffness in necky
Nausea or vomiting
Discomfort in bright lights
Drowsiness
Joint pain
Confusion or other mental changes
It may be difficult to notice the classic symptoms listed above in the newborns or babies. Babies may be slow or inactive, irritable, vomiting, feeding poorly, or have a bulging in the soft spot of the skull. In young children, look for the child's reflexes for signs of meningitis. Seek medical attention immediately if you find the symptoms of meningitis in your child.
Risk and Transmission
Though it poses a threat to every age group, Meningococcal Meningitis can affect infants and toddlers easily due to regular group/community interactions at schools, parks and public places.
Meningococcal Meningitis is a contagious disease and can spread via sneezing, coughing and exposure to infected respiratory and throat secretions.
Conclusion
Knowing about this deadly disease, it is important to take steps towards its prevention. Visit Matoshree Multispeciality Hospital, Kamothe and consult an expert pediatrician in Kamothe to protect your child from the three types of bacterial meningitis by giving them vaccinations on time..