How to Choose the Best Pediatrician for Your Child? - Matoshree Hospital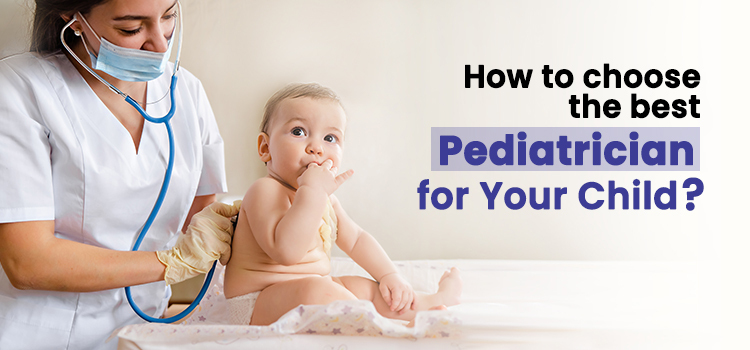 As a parent, one of the most important decisions you will make for your child's health is choosing the right pediatrician. A pediatrician is a specialized doctor who provides medical care and guidance for infants, children, and adolescents. When it comes to selecting a pediatrician for your child, it's essential to find a qualified and compassionate professional who can cater to your child's unique healthcare needs. This blog will guide you through the process of choosing the best pediatrician for your child by Matoshree Hospital's Best Pediatricians in Kamothe, a renowned healthcare facility in Kamothe.
Assess the Pediatrician's Qualifications: When researching pediatricians, it's crucial to evaluate their qualifications and credentials. Look for doctors who are board-certified in pediatrics, as this certification ensures that they have completed the necessary training and have met the standards set by the medical board. Matoshree Hospital prides itself on having a team of highly qualified pediatricians with extensive experience in the field.
Consider the pediatrician's expertise: Every child is unique, and they may have specific health concerns or conditions. If your child has any particular medical needs, it's important to find a pediatrician who specializes in that area. Matoshree Hospital offers a diverse team of child specialists in Kamothe, ensuring that your child will receive specialized care tailored to their individual requirements.
Seek recommendations and reviews: Word-of-mouth recommendations from trusted sources, such as family, friends, or other parents in your community, can be valuable in the selection process. In addition, read online reviews and testimonials about the pediatricians at Matoshree Hospital. Positive feedback regarding their expertise, bedside manner, and responsiveness to patient needs is a good indication of the quality of care they provide.
Evaluate the Hospital's Reputation: Choosing a pediatrician affiliated with a reputable hospital . Consider the hospital's overall reputation, patient satisfaction rates, and the range of services they offer. A hospital with a comprehensive pediatric department, advanced medical technology, and a child-friendly environment will ensure that your child receives the highest level of care.
Accessibility and Availability: Another essential factor to consider is the pediatrician's accessibility and availability. You want a pediatrician who is easily reachable and responsive when your child needs medical attention. Matoshree Hospital understands the importance of accessibility and ensures that their pediatricians are available during office hours and have provisions for emergencies.
Assess the Doctor-Patient Relationship: It's important to build a strong doctor-patient relationship, especially in pediatric care. A good pediatrician should have excellent communication skills, be patient, and have a genuine interest in your child's well-being. Matoshree Hospital prioritizes patient-centered care and ensures that their pediatricians establish a rapport with both the child and the parents, making the medical experience more comfortable and reassuring.
Consider Convenience Factors: When choosing a pediatrician, consider convenience factors such as the location of the hospital or clinic, office hours, and the availability of parking facilities. Matoshree Hospital's location in Kamothe offers easy access and convenient services, making it easier for you to schedule appointments and attend regular check-ups.
Why Do You Need a Pediatrician for Your Child?
You need a pediatrician because they are specially trained to provide comprehensive health care for children from birth to age 18. They can diagnose and treat a wide range of childhood illnesses, from minor health problems to serious diseases. They can also provide preventive care, such as vaccinations, and guidance on healthy lifestyles.
Here are some of the reasons why you need a pediatrician:
Provide preventive care. Pediatricians can provide your child with preventive care, such as vaccinations, which can help protect them from common childhood illnesses. They can also provide guidance on healthy lifestyles, such as eating a healthy diet, getting regular exercise, and getting enough sleep.
Diagnose and treat illnesses. Pediatricians are trained to diagnose and treat a wide range of childhood illnesses, from minor health problems, such as ear infections and colds, to more serious diseases, such as asthma and cancer.
Provide emotional support. Pediatricians can provide emotional support to children and their families during times of illness or stress. They can also help families to cope with chronic health conditions.
Provide guidance on development. Pediatricians can provide guidance on your child's development, both physically and emotionally. They can help you to identify any developmental delays and provide resources to help your child reach their full potential.

If you are a parent or caregiver, it is important to find a pediatrician that you feel comfortable with and who you can trust to provide your child with the best possible care.

So what exactly you need to check before choosing hospital for Pediatric Treatment:

Well-baby checkups: Well-baby checkups are important for ensuring that your child is developing properly and staying healthy.
Immunizations: Immunizations are essential for protecting your child from serious diseases.
Treatment for common childhood illnesses: Choose a hospital that can treat a wide range of common childhood illnesses, such as ear infections, colds, and stomach bugs.

Why Matoshree Hospital for Pediatric Treatment in Navi Mumbai?

Here are some of the reasons why you should consider Matoshree Hospital for Child Specialist in Kamothe and pediatric treatment in Navi Mumbai:

Experienced and qualified doctors: Matoshree Hospital has a team of experienced and qualified pediatricians who are experts in treating a wide range of pediatric conditions.
Advanced medical facilities: Matoshree Hospital has a state-of-the-art medical facility that includes a neonatal intensive care unit (NICU), and a pediatric surgery unit.
Friendly and caring staff: The staff at Matoshree Hospital is friendly and caring, and they are committed to providing excellent care for all of their patients.
Affordable rates: Matoshree Hospital offers affordable rates for pediatric care, making it a great option for families on a budget.

If you are looking for a high-quality pediatric care provider in Navi Mumbai, Matoshree Multispeciality Hospital is a great option. The hospital has a team of experienced and qualified doctors, advanced medical facilities, and a friendly and caring staff. Matoshree Hospital also offers affordable rates for pediatric care.